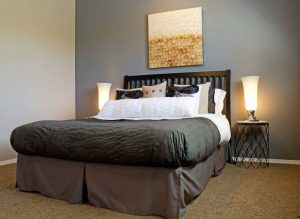 With the holidays fast approaching, there's a fair chance you will either host guests in your home–or be one in someone else's. Kind of like Insurance, you want to be selling your ideas, selling yourself, selling your trust on knowing how to prepare the perfect home for the holidays. For those who will be traveling this advice is still beneficial to you. And if you're staying with someone else, feel free to share this post with your host. 
Create Curb Appeal:

We know, you're not advertising your customer service skills towards the guest in your home. But, remember that the porch is the first thing guests see when visiting your home. Make sure it is well lit, freshly swept, and outfitted with clean cushions and fresh plants. Anything to enhance the scenery and set the mood for your home.

Declutter:

The day before guests arrive is no time to fix the damaged roof from storm disasters (which you should have called that insurance company to cover sooner), or pull apart junk drawers and clean out linen closets. Declutter guest rooms and public areas — foyer, kitchen, living room, den, and dining room. Remove anything unnecessary from countertops, coffee tables, and ottomans; if it's out of sight, keep it out of mind, for now. If you run short of time, bag up the clutter and store it out of site. Sort and arrange after your guests depart.

Add a Gracious Touch:

Before friends or family arrive, place a small arrangement of holiday-themed flowers and foliage on their bedside table. Holiday decorating doesn't typically extend to the guest room, but this thoughtful touch will add a hint of seasonality to their space. It will be hard

not

to get into the holiday spirit if it's the first thing they see in the morning.

Add Night Lights:

Even though you may be able to navigate your home blindfolded, your guests can't. Typically, you pay for electrical safety insurance incase a situation were to occur. Therefore, you know your covered so make sure outside lights are working so they don't trip on the way to your door. Put motion-activated night lights in hallways, bathrooms, and bedrooms to allow guests to move around your house easily after dark.

Make Extra Bathroom Supplies Easy to Find:

Bring toilet paper, towels, and toiletries out of hiding, and place them on open shelves so guests can find them easily. If you don't have enough wall space for shelves,

place these items in open baskets around the bathroom. Also, outfit each tub with a bath mat (to avoid falls) however, if a fall were to occur, make sure you have that liability insurance to cover you. Be sure each toilet has a plunger (to avoid embarrassment) too.

Make it Comfortable: Guests tend to have a wide range of temperature preferences—some opt for an ice-cold space for sleeping, while others will freeze if the temperature is cooler than in their own homes. Because most guests won't realize it until the middle of the night—when they probably won't want to wake you to ask for  help—put additional options within easy reach. A stack of cozy folded blankets will do (in both throw and bed sizes), as will a small heater or circular fan stored in the closet.
Keep Guests Informed:

Place a small notebook or a card on their bedside table with important household info on it, such as the Wi-Fi password or an alarm code you may want them to keep on hand. If your guest is staying more than a day or so, you may want to leave them an extra house key so they feel like they can come and go as they please.
If hosting guests this holiday season helps you realize that you need to consider more insurance coverage, make Stone Insurance Group your first call at (832) 403-2066! Or, request a free quote online.