As many of us are pondering resolutions to become a "better me" in the new year, the concept of improvement also seems to carry over into our homes. With the boxes and wrapping paper cleared away following Christmas, it's easy to feel the pressure to become more organized.
When you become organized, it seems as if all aspects of your life start reveal a more structured lifestyle. This is where home insurance comes to mind, if you're organizing your home you take pride in it, therefore making sure it is covered when any situation may arise. Take these organizational tips into consideration, starting with the areas your guest will see the most. We will begin in the kitchen and work our way unto the bedroom, and bathroom.
Kitchen
First need that coffee to stay awake to organize that home of yours. Well, because of their shape and handles, mugs can take up valuable space in your cabinets. Hanging mugs by their handles from a shelf solves the problem while also keeping them in reach when you need your next caffeine fix. This can be an option for skillets, pots, and certain pans too.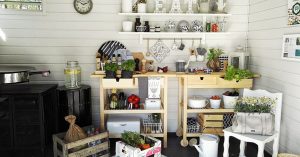 Can you find that spoon? We know that searching for the right utensil can be a challenge. So why not sort your utensils by use: specialty, serving, baking, spatulas, and tongs.

The pantry and cabinets can be the hardest places to organize. Use some cheap finds, such as containers from the dollar store.

Basic containers become way more adorable when you add labels to them. Even better: They'll create a unique style for a space that's usually filled with boring colors and Campbell Soup Company labels.

Does your kitchen not have enough space for all your cooking tools? Best thing to do is add racks and cubbies everywhere. That small space between the pantry shelves and the door is constantly forgotten but narrow cubbies add extra storage for your favorite spices and sauces.The racks add different levels no matter where you place them, to make all available space occupied.  
Bedroom
Storage Boxes are the way to go in a bedroom no matter what size it may be. Choose matching storage boxes to give your bedroom a more unified look, as well as holding a place for those small items you may have.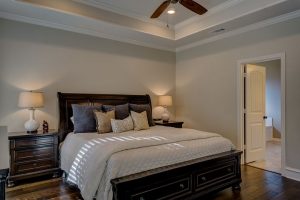 Keep clutter out of your bedroom, this is the reason it becomes unorganized. A clutter free bedroom is a must. Those items you never use except once in a blue moon, chunk them out, you don't need them. Pick out a basket or box that can hold paperwork or extra blankets. So these few things are not sitting out for everyone to see.

Built in drawers to your bed is a unique look for your bedroom, along with giving you available space without a big chester drawer in the corner. Fill these drawers under your bed with your clothes. This gives you more space to decorate and take the eye away from a mess.
Bathroom
Declutter that bathroom drawer this new year. It is time to throw out and get organized. Do you keep numerous beauty products, hair tools, toilet paper, etc.
Make your morning routine easier, use shelf organizers that turn the free-for-all space under the sink or in the drawer into functional storage space. The dividers help keep items in place that tend to roll to the back of the vanity, while also being able to pull it out to view your items.

Linen closets that are organized help give you a more relaxed bathroom. Arrange everything so that the most used items are towards the front and center. Make towels easier to find too by grouping them by size, color, or in sets, whichever makes it easiest for you. Take the rags and towels and place them in storage baskets or unique round wire baskets that give your bathroom a new look, whatever matches your bathroom best.

Yes organizing your bathtub is a must too. Keeping your shampoo, conditioner, razor, body scrub, and whatever else you need within easy reach is a must. Be sure to place these items in a durable and stable organizer that can hang upright in your bathtub.
If hosting guests helps you realize that you need to get organized or consider more insurance coverage to protect your family and assets, make Stone Insurance Group your first call at (832) 403-2066! Or, visit our quotes page to request a free online quote.