Although it is officially autumn, in Texas we're still feeling the summer heat. What helps bring the fall feeling here, though, is football season! Team jerseys are on display across the state, and tailgating is in full swing. If you own an RV, tailgating can be a practical way of enjoying games and hosting game parties—after all, you have access to your own kitchen, air conditioning, and bathroom.
We've put together a few ideas for your next tailgate—whether you own an RV or not. And if you do own an RV, we'd love to talk to you about your RV insurance policy. Quote requests can be made on our website, or give us a call at (832) 403-2066.
Plan Your RV Tailgating Party
A bit of pre-planning before heading to your tailgating party can help ensure a more relaxing, stress-free, and entertaining event. As you begin preparing, consider the following tips.
What's on the Menu?
While a grill in the parking lot of your favorite team's stadium is enough to prepare an awesome tailgate, having access to a full kitchen in an RV doesn't hurt either. When selecting a menu, start with game snack basics, such as cut veggies, chips, burgers, coleslaw or potato salad. H-E-B offers great recipes and videos for tailgating, including spinach dip and brats. Remember that pre-game prep can make the day run more smoothly. And don't forget dessert! Cookies are a simple, mess-free item that can be prepared ahead of time. In the south, dishes like "Mississippi Mud Pie" and pecan pie are worth getting out extra plates and utensils for!
Watching the Game at the Tailgate
If you don't want to risk missing a second of the game, consider bringing a radio, streaming it from the Internet or watching it on satellite TV. Be sure you have the necessary technology in place so that your party can keep abreast of the action. Some satellite TV providers even offer portable devices designed specifically for tailgating. If you're a frequent tailgater, you may want to consider an outdoor tailgating stand like the one shown here.
Parking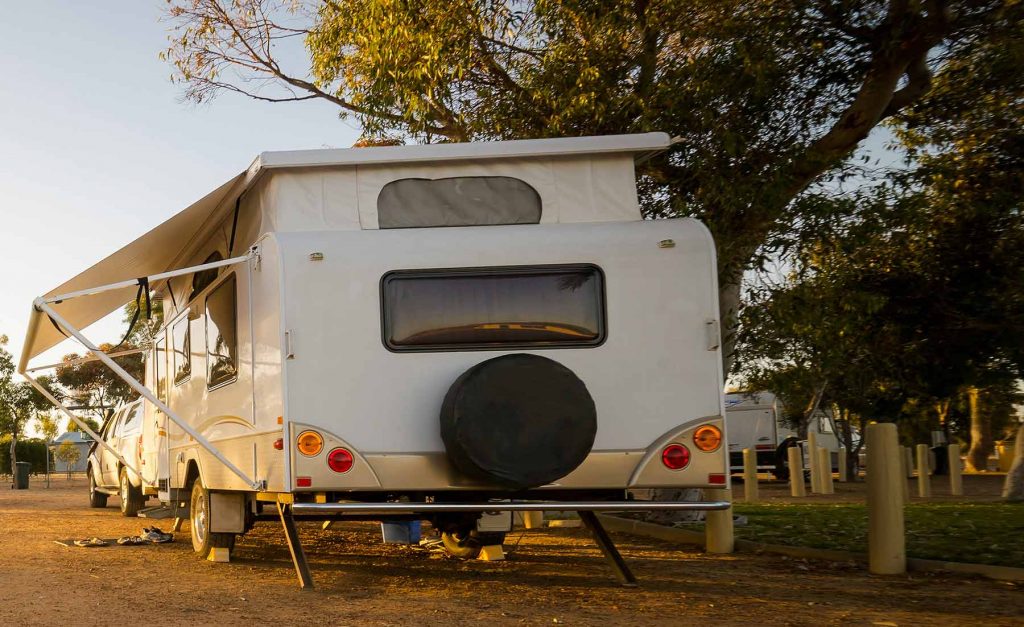 If you're planning on parking outside a major city or college stadium, it can pay to research its RV policies beforehand. Review policies for tailgating at a Texans game and Dallas Cowboys games.  Some stadiums will provide only parking, while others will provide water and electric hook-ups, as well. Most stadiums require a parking permit for tailgating (with or without an RV). For RV parking, expect to pay approximately $150 per game.
What Does the Game-Day Forecast Look Like?
For October games in Texas, prepare for the heat! Other useful items for making the weather more bearable may include portable RV umbrella, awning or other source of shade, sunglasses, bug repellent and portable fans or air conditioners.
The Day of the Game
Before you hit the road, don't forget to pack any team or decorative items you may want to use to display your team pride. On game day, be sure to arrive early to your intended tailgating location in order to claim your desired spot. When the tailgate is over, don't forget to clean up. Being a courteous tailgater means more opportunities for all fans to enjoy the game.